One of the most popular apps in the world is Dropbox! A big plus is that Dropbox is absolutely free for anyone to use. Millions of people use this software every single day. I will show you how to start using Dropbox and a few ways that I use some of the Dropbox features!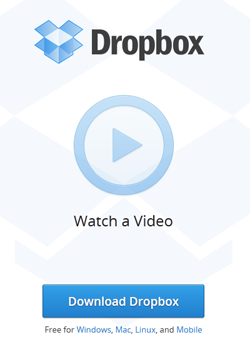 Dropbox Basic Setup Info:
First off you will need a Dropbox account to get started go to (www.Dropbox.com)
Second step, you will need to download and install Dropbox on your PC/MAC and your mobile devices.

On a personal note, I prefer to change the Dropbox location to my Desktop inside Windows so I can easily access the folder and move files in the folder straight from the desktop. You can install the Dropbox folder anywhere on your computer, I think the Dropbox setup will make the default folder install to your MyDocuments folder which is totally fine. But, feel free to install the Dropbox folder anywhere you choose.

Once you have Dropbox installed on your computer, laptop, phone, and whatever else you want it on, you should be ready to start using it.
Understanding Dropbox:
If you were to add a file to your Dropbox folder on your computer, you will see a small blue rotating icon that notifies you that it is being uploaded to your Dropbox account. Now, go to your mobile device or iPhone where you have installed Dropbox and take a look in the folder. You should now see that the same file you uploaded earlier from your computer is now on your mobile device. It's that simple. Now any changes you make to either of the files rather you are on your computer or mobile device it will sync the files between the two devices as long as you have an internet connection or mobile internet access.
Features:
Dropbox for iPhone: Once you install Dropbox on your iPhone you now have the ability to back up your iPhone pictures to your Dropbox account with just one push of a button. Check out the screenshot below and this will be the step it takes you to after you install Dropbox. All you need to do from here is select the "Enable" button in the top right corner. Once you enable it you can then select a folder inside your Dropbox account that you want to back up your pictures to. I created a folder called "Camera Uploads" for my pictures to back up to. This is a sweet feature that everyone should use. Just think of how many people lose every picture on their phone because it was stolen or the iPhone crashes due to an Apple iOS update that went wrong.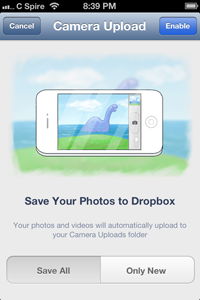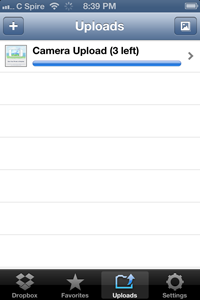 Dropbox for WordPress Websites: Another awesome feature that you can use Dropbox for is backing up your WordPress website and database. If you blog using WordPress or build websites using WordPress then you need to check this feature out. Along with Dropbox, there is a WordPress plug-in called "BACKWPUP." You can download it from the WordPress.org website by going to http://wordpress.org/extend/plugins/backwpup/ . Using BACKWPUP is very simple and has many neat features of its own. First off, it offers an API (Application Programming Interface) setup for you to connect Dropbox straight to your WordPress site. This allows up to (150MB) of data to be backed up from WordPress over to your Dropbox account by simply providing your Dropbox login info on the BACKWPUP setup page. With this plug-in you can even schedule automatic backups to run daily, weekly, monthly, or even hourly. Any WordPress user knows how hard it can be to always try and remember to back up your website. With this option you just set up the schedule and then you are done. I have multiple clients running WordPress sites and I back them all up to the same Dropbox account every week. Having these backups allow web designers to sleep better at night knowing that all of their client's data is being backed up in case something crashes their website.
Note: Also, if you ever want to increase your Dropbox storage size you can always refer your friends and family. When you refer someone and they sign up for an account you and the person you referred get an extra 250MB of storage space for free.

Hope this helps anyone that is interested in using Dropbox for the first time or just backing up their data.
Thanks for reading my blog post and please feel free to leave a comment!
-Jacob @InticeMedia